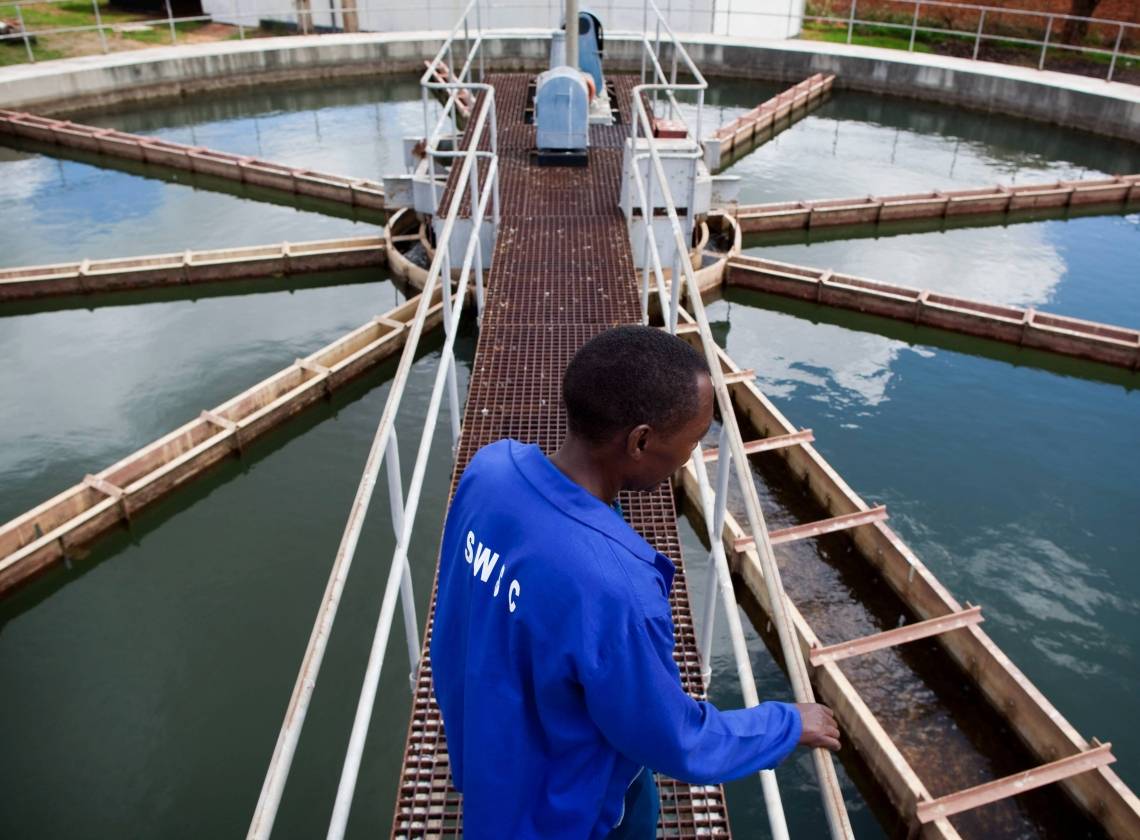 Germany and the Netherlands, together with the EU and other international partners, announced the intention to establish the Urban Water Catalyst Initiative (UWCI) at the UN 2023 Water Conference as a cornerstone commitment for the Water Action Agenda and the international goals of the 2030 Agenda. The initiative will focus on accelerating urban water utility turnarounds worldwide and mobilizes finance for performance improvement, climate-resilient infrastructure investment and improves access to underserved population groups.
The UWCI will provide just-in-time, tailor-made, and closely coordinated technical and financial assistance to reform-minded urban water and wastewater utilities. The initiative will be implemented through a global grant facility. Simultaneously, a loan and guarantee window will offer direct corporate loans for infrastructure investment and guarantees to support local commercial financing.
Our vision
Our vision is to provide access to safe and climate-resilient water and sanitation services in urban areas for all as a powerful contribution to Sustainable Development Goals (SDG) 6 ("Clean Water and Sanitation: Ensure availability and sustainable management of water and sanitation for all") and 13 ("Climate Action: Take urgent action to combat climate change and its impacts") through well-performing, financially viable and resilient urban water and sanitation utilities.
Our mission is to improve the performance and climate resilience of urban water and sanitation utilities by mobilizing additional finance through enhanced cost recovery and creditworthiness.


The UWCI process
A competent management team lies at the heart of a successful urban water utility as experience around the world clearly shows. A supportive (political) environment is key to operate sustainably and generate sufficient revenues. Under these conditions, it is possible for a utility to extend the urban piped water network and sanitation services to the vast majority of city residents, even in low-income countries, and to be sustainably financed.
Technical assistance
The initiative will support and work closely with the utility leadership and top management team. It will be responsive to their prioritized needs, drawing on established best practices for transferring management. Water operator partnerships can play an essential role by offering practical and operationally focused peer knowledge transfer – from North-South or South-South.

Offering
The Urban Water Catalyst Initiative (UWCI) will offer reform-minded utilities a unique, performance-based support package. A technical assistance and grant facility enables the transfer of operator know-how between peers. To boost performance and creditworthiness, the initiative also offers results-based, flexible operational finance to support efficiency improvement and bankability. This creates the base for increased access to additional public transfers and private or commercial loans for water investments, including through local currency loans from commercial banks.
How can utilities and funders participate? Find out here.